The Fund achieves a total score of 82 of out 100, representing the third highest GRESB score in the 'Northern Europe | Healthcare: Senior homes | Core | Tenant controlled' peer group.
---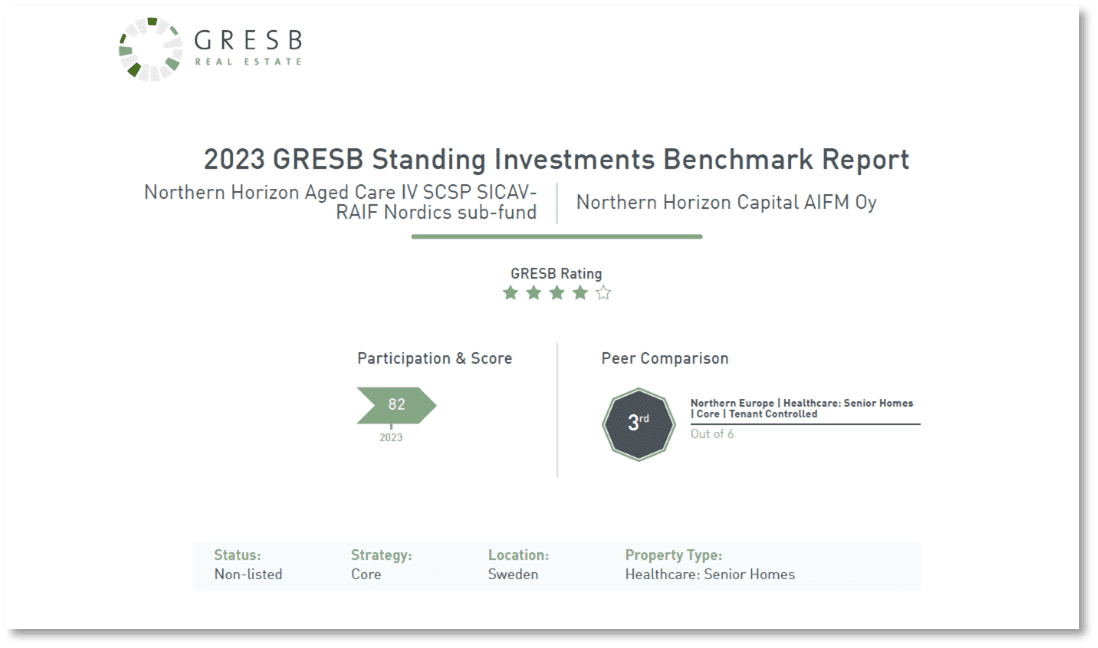 ---
Aged Care Fund IV made its debut in the GRESB assessment this year, and we could not have hoped for a better start. In our efforts, we have been able to draw on the knowledge and experience from our third healthcare fund, a long-time GRESB participant. We are strongly committed to sustainable investment, and we will continue our efforts, hoping to cross the five-star threshold soon, comments Kasper Wehner, Co-Fund manager for Aged Care Fund IV.
For further information regarding GRESB Assessment, please see the GRESB website.
For more information:
Kasper Wehner
Co-Fund Manager
kasper.wehner@nh-cap.com
+45 26 18 99 90
Vilma Pasanen
Head of Sustainability & Compliance Officer
vilma.pasanen@nh-cap.com
+358 400 284 785
---
About GRESB
GRESB is a mission-driven and industry-led organization that provides actionable and transparent environmental, social and governance (ESG) data to financial markets. GRESB collects, validates, scores and benchmarks ESG data to provide business intelligence, engagement tools and regulatory reporting solutions for investors, asset managers and the wider industry.
Aged Care Fund IV
Nordic Aged Care Fund IV was launched in 2020. The fund invests in aged care homes and similar residential care assets in Sweden, Finland, Norway, and Denmark. The investment strategy is to build a large portfolio of modern aged care facilities that will be in a good position to meet ever increasing sustainability requirements of the future. The asset portfolio currently consists of 29 assets.