GRESB (Global Real Estate Sustainability Benchmark) is internationally recognized as the standard for measuring sustainability performance.
Nordic Aged Care Fund has participated in the GRESB assessment since 2018. This year, the fund has achieved its highest possible rating with a GRESB score of 90 points, crossing the threshold to 5-star level.
---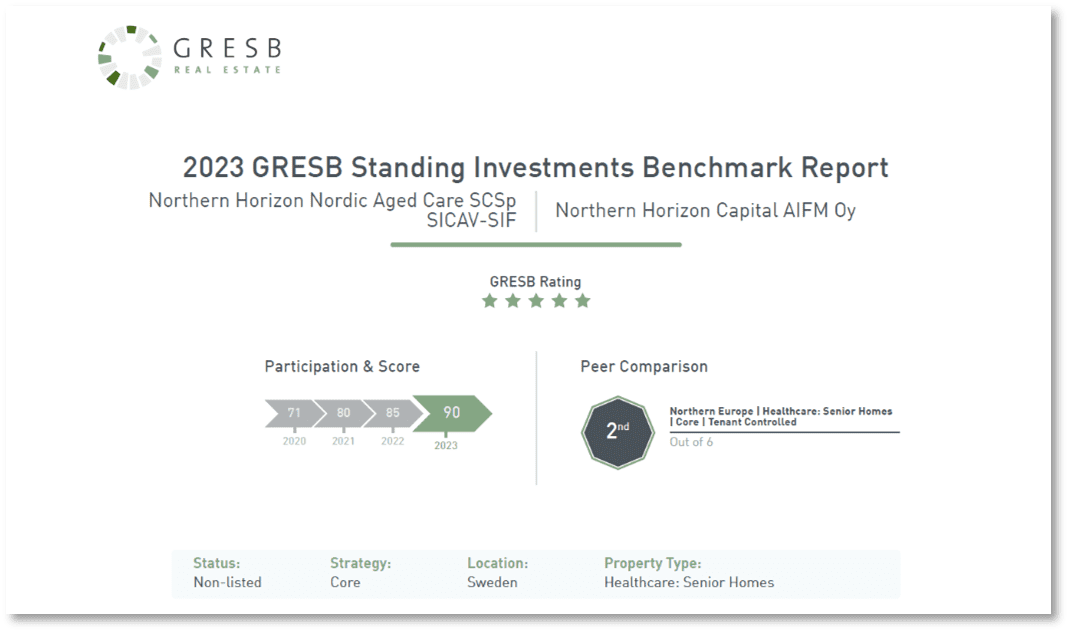 ---
The rating represents the second highest GRESB score in the very competitive Healthcare, Senior Homes in Northern Europe peer group.
Northern Horizon is a Nordic leader in the aged care investment space. We have set ambitious and measurable ESG targets for our healthcare funds, and we are very proud to see our efforts being recognized by an international benchmark such as GRESB. The 5 star rating is a great milestone in our efforts to make a positive impact on the environment and society, comments Jussi Rouhento, Fund manager for Nordic Aged Care Fund.
For further information regarding GRESB Assessment, please see the GRESB website.
For more information:
Jussi Rouhento
Fund Manager
jussi.rouhento@nh-cap.com
+358 405 129 577
Vilma Pasanen
Head of Sustainability & Compliance Officer
vilma.pasanen@nh-cap.com
+358 400 284 785
---
About GRESB
GRESB is a mission-driven and industry-led organization that provides actionable and transparent environmental, social and governance (ESG) data to financial markets. GRESB collects, validates, scores and benchmarks ESG data to provide business intelligence, engagement tools and regulatory reporting solutions for investors, asset managers and the wider industry.
Nordic Aged Care Fund
Nordic Aged Care was launched in 2016 and it is Northern Horizon's third specialized care home fund. The Fund helps the Nordic countries meet the challenge of a rapidly ageing population by funding the development of modern and high-quality care homes. The Fund raised EUR300 million of equity and is fully invested into 63 care homes and similar properties in Sweden and Finland.